Chinese Crested Quick Facts:
* Originated in China in the 1920's
* Two varieties; the Hairless and Powderpuff (with hair)
* The Hairless is one of the non allergic dog breeds while the Powderpuff sheds litle and is considered one of the hypoallergenic dog breeds (low allergy).chinese-crested
* The Hairless and Powderpuff can come from the same litter.
* The most popular of the hairless dog breedschinesecrested
* Has no dog odor
* Admitted to AKC in 1981
* First shown at Westminster Dog Show in 1992
* Has won 8 World's Ugliest Dog contests
* Life Span – Up to 15 years. Feeding the best dog food possible, exercise and regular Vet check-ups will help to assure a long, healthy life.
Chinese Crested Appearance:
* Hairless Chinese Crested has soft human-like skin, fur on paws and long hair on the head (crest) and tail. Lacks a full set of teeth.
* Powderpuff Chinese Crested has a thick double coat.
* Not prone to fleas and ticks.
* Height 10 inches. Weight not over 10 lbs.
Chinese Crested Temperament: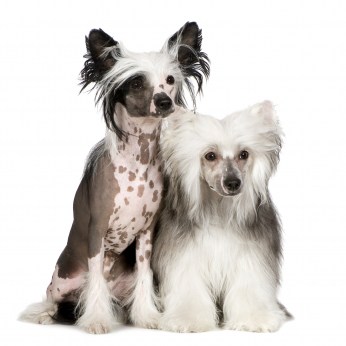 * Loving, playful, loves to hug.
* Loves children but children must be careful with them because they are fragile.
* Very attached to owners.
* Alert and entertaining, easily taught tricks.
* Not barkers
* A great family dog
* Loves to dig and climb.
Chinese Crested Potential Health Issues:
* Primitive mouth (pointed teeth), missing or crowded teeth (Puffs have fewer problems)
* Eye problems
* Allergic to wool and lanolin
Special Needs:
* The Hairless Crested needs regular skin massages with body oil and needs to be bathed frequently.
* Can get acne and sunburns easily. Be careful not to expose to the sun for extended periods.
* Powderpuffs need brushed regularly.
* Need frequent walks (active dogs)
This post contains some affiliate links for your convenience (which means if you make a purchase after clicking a link I will earn a small commission but it won't cost you a penny more) Click here for my full disclosure policy.