Hypoallergenic dogs or non-shedding dogs are terms used to describe a breed of dog that is safer for people with allergies. No dog breed is 100% allergy free.
Highly allergic people may always be affected to some degree, while those with mild allergies may tolerate specific dogs quite well.
The allergen for most people is not the hair but the protein formed by the dog's saliva and dander. Protein production can differ between dogs so each dog can affect allergic individuals to varying degrees.
Even hypoallergenic dog breeds that are considered non shedding, have saliva and dander. And the reality is that all dogs shed somewhat, including non shedding dogs.
Non allergenic dog breeds are a good starting point in your quest for the best dog breeds for allergy sufferers. You won't be able to stop dog shedding entirely. Just impossible; we all lose some of our hair and your dog is no different. And there is still the dander and saliva to contend with.
There are some things to consider when striving to select a dog with the lowest possible factors:
The size of the dog can be a factor because the largest dogs have the most body surface, thus more area to contain dander. Smaller dogs naturally have less dander. A small hairless dog conditioned with oils will have the least amount of allergens.
Dogs spending much time outside can pick up outdoor pollens and other allergens, bringing them back in on their feet and fur.
Dogs that bark a lot can disperse saliva and shake off dander. Opt for a calm dog.
To start you in the right direction in making the best possible choice, we have compiled a list of those considered to be hypoallergenic dog breeds.
Small Hypoallergenic Dogs

Medium Hypoallergenic Dogs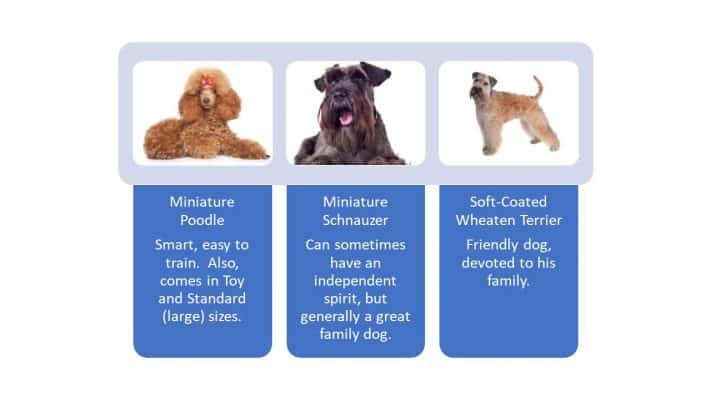 Large Hypoallergenic Dogs
These are but a few of the dogs thought to be typically hypoallergenic. Others include: Bichon Frise, Brussels Griffon, Bedlington Terrier, Barbet, American Hairless Terrier, Kerry Blue Terrier, Chinese Crested and the Irish Water Spaniel.
Are the Goldendoodle and Labradoodle Hypoallergenic?
The answer to this is, maybe. These combo dogs are as cute as can be. They combine the intelligence of the Poodle with the agreeable, friendly nature of the Labrador Retriever or the Golden Retriever. This makes for a wonderful family dog and a fantastic kids' dog. Whether they are
hypoallergenic or not can depend on whether they are first generation or beyond. It can be questionable with first generation breeding. Ask questions of the breeder.
Try to introduce the new dog into your home on a trial basis, carefully monitoring any effects on the allergic person.
Once you have chosen from among the non allergic dog breeds and determined that dog fits in with your lifestyle, there are things you can do to help reduce allergens caused by the dog.
Top tips for keeping your home free of Dog Hair, Dog Dander and More
Grooming your dog to lessen dog hair allergies
Grooming rituals to help stifle your dog hair allergies
Selecting the proper furnishings can help with dog hair shedding
Learn to recognize furniture that is best if you have a shedding dog.
Dog training can be the best ally for people allergic to dogs
Best ways to help your non shedding or hypoallergenic dog become even more so.
Best Hypoallergenic Dogs for Kids
Which dogs are good with children and also less likely to aggravate allergies.
This post contains some affiliate links for your convenience (which means if you make a purchase after clicking a link I will earn a small commission but it won't cost you a penny more) Click here for my full disclosure policy.