Cavalier King Charles Spaniel Quick Facts: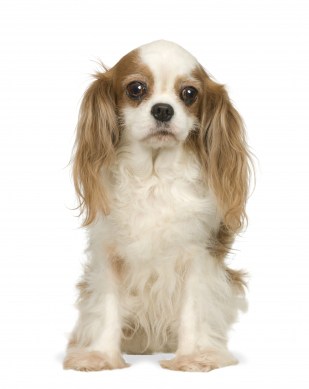 * Probably the largest of the toy dog breeds
* Companian to high stress people for hundreds of yearscavalier-king-charles-spaniel
* Popular with royalty
* Descended from the King Charles Spaniel
* Household pet in Charles I household
* Can be seen in paintings dating back to the 16th century
* Current type started breeding in 1920's
* First entered the Westminster Dog Show in 1997
* Placed 3rd one time and 4th one time at the Westminster Dog Show
* Life Span 9-14 years
Cavalier King Charles Spaniel Appearance:
* Small for a Spaniel 12-13 inches to top of shoulder
* Has full length tail, not docked
* Large round eyes
* Silky coat with no curls – most common colors are chestnut and white, black and white with tancavalier-king-charles-spaniel2 markings on cheeks, black and tan and ruby red.
Cavalier King Charles Spaniel Temperament:
* Eager, well-behaved, adaptable. Loves people – needs companionship
* Wants to please
* Very affectionate & playful
* Loves sitting on your lap
* Good with children and other dogs. One of the best dog breeds for families.
* One of the friendliest of the toy dog breeds
* Can be cat-like, perching on the back of furniture.
Cavalier King Charles Spaniel Potential Health Issues:
* Prone to:
Eye disease
Dislocating of knee caps
Back problems
Ear infections
Hearing problems
Hip dysplasia
Special Needs:
* Must be brushed daily
This post contains some affiliate links for your convenience (which means if you make a purchase after clicking a link I will earn a small commission but it won't cost you a penny more) Click here for my full disclosure policy.