Travel with your dog can be a great experience with some thoughtful pre-planning. Just the mention of the words car, go or bye-bye and many dogs are running to the door and ready to go.
Many of us cannot bear to leave our canine family members at home when we vacation. But, while they may be ready to take off at the drop of a bone, we need to take time for a little planning. It can make the difference between a vacation delight and a vacation disaster.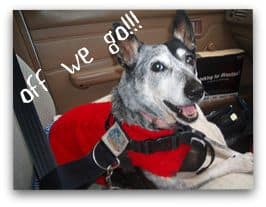 Whether you are planning a short get-a-way or a full-fledged vacation, it is important to gather the right equipment and documents to help assure a happy, safe and fun trip when you travel with your dog.
10 basic items you may need when you travel with your dog:
Main dog leash plus an extra one
Collars for walking
Water & food bowls
Supply of your dog's regular food
Treats (can't leave home without them)
Toys
Blankets and/or dog bed
Plastic bags for picking up waste
Dog crate and/or dog safety belt
ID tag and tracking chip (dogs can become lost and end up in shelters)
Health items needed when you travel with your dog:
Medical records/health certificate from your veterinarian
Adequate supply of medications if needed
Motion sickness medication
Dog first-aid kit
Dog health insurance
In addition to the items you will need to gather before you travel with your dog, there is also information you will need.
Information you will need when traveling with your dog:
Locate and record phone numbers and locations of Emergency Vet. Clinics along your route and at your destination.
Locate dog friendly lodging, dining, attractions, events, parks, campgrounds, beaches, etc.
Locate and obtain information on kennels in the area you will be staying in. Even if you don't plan on kenneling your dog, something may come up that you have to do so. Better to be prepared.
Check to see if the area you will be in has any restrictions on your breed.
Research your travel destination for possible hazards to your dog that you may not have in your hometown.
Bring several clear, recent pictures of your dog in case he gets lost and you need to copy and place in places such as veterinarian's offices and on street posts as well as social media sites.
<script src="//z-na.amazon-adsystem.com/widgets/onejs?MarketPlace=US&adInstanceId=ae1a7509-9b37-40c3-bc56-1f31ec393b22&storeId=mostlymutts-20″></script>