You've decided to get the kids a dog. Great! Now it is important to find the best dogs for children. There are many things to consider. We'll help you with the information you need to make the best choice.
First, make sure you are getting a dog for the right reasons. Consider the following before moving forward:
Don't get a dog to teach the kids responsibility. The dog deserves an owner that is already responsible, not one that is learning on him.
Don't get a dog simply because the kids have "worn you down."
Remember who will most likely end up as the caregiver for the dog!
Okay, so you've decided that you are getting a dog for all the right reasons. But how do you determine which are the best dogs for children? There is no clear-cut fool-proof answer to that but armed with the right facts, you will be on the right path to a good choice.
Although some breeds are known to usually be good dog breeds for children, each individual dog will need to be evaluated on it's own. Consider the following:
Best Dogs For Small Children
Larger dogs can easily knock into a smaller child, pushing them to the ground. Though most kids will simply get back up, ready for more, some children will become frightened by this doggy enthusiasm.
On a similar note, small dogs can be injured when a rough and tumble child falls onto them.
Try to match the size and energy level of the dog to your child.
Can A Puppy Be Amongst The Best Dogs For Children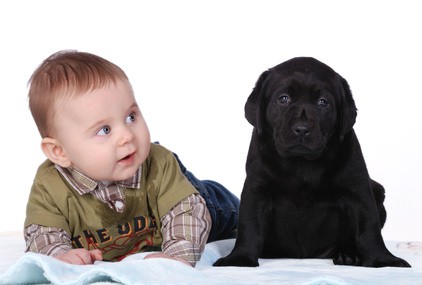 Can there be anything cuter than a puppy? YES, a puppy and kids, romping, rolling, running and playing together. But, puppies are also usually rambunctious, untrained and time consuming. Do you have the time to devote to obedience training and housebreaking? Are you prepared for the possibility of chewed furniture and shoes?
Puppies are best suited to households where adults are home most of the day to see to their needs. Raising your kids and dog together is a neat experience and can create a strong loving bond between child and dog as long as the parents have the extra time to devote.
Sometimes An Adult Dog Is The Best Dog For Children
Consider an adult dog also. Many of these more mature dogs have had some training, perhaps have previously lived with a child and have come through some of the rambunctious stage. They are usually calmer than a puppy and their temperament has already been established.
Temperament and Personality
Opt for a laid back attitude when selecting your new dog. Some dogs are okay with anything and adjust well to whenever the kids want to play, run, bounce and jump. They may think it is great fun when their kid uses his doggy body for a toy truck ramp. Other dogs only want to play on their own terms and some dogs can be down-right irritated when the children of the house interrupt a doggy nap. (HINT: This later type may be better in a childless or older child home.)
Best dogs for children need to be ready (although maybe not thrilled) to participate in tea parties, dress-up and maybe even some nail painting sessions.
Kid's dogs should have lots of energy to withstand hours of play. In short, the best dog for children needs to be a superdog because he'll have the awesome responsibility of being a super best friend to the best kid in the world, YOURS!
Although there are many popular dogs that are known to be good dog breeds for children, everyone has their own idea on child friendly dog breeds..